repair of fraying
overcast
repair of moth holes
fixing of burn holes
handmade fringing
hand style fringing
all types of reweaving
patching of holes
patching of tears
recoloring worn areas
resizing your rug
sew in groves to support
your rug on the wall
rug stretching
much much more
Antique Rug Cleaning Inc.
Antique Rug Cleaning Inc Florida is an expert rug cleaning, rug repair and restoration company operating master plant for hand made textiles. In our rug cleaning process we use modern professional equipment, our technology may be new but gentle, Our methods and cleaning techniques go back in our family for decades, our products are all organic, perfume free. The water used in our cleaning process always purified soft water.
Our technicians are very friendly and professional as they are able to identify the type of rug you have, material and the origin of make.
Antique Rug Cleaning offers its customers a wide range of rug cleaning of all types: oriental, persian, wool, silk, costum, designer rugs. Our master weavers repair and restoration services is somewhat of an imperfect science we can guarantee your satisfaction, and will stand behind our practices 100% no matter what.
Antique Rug Cleaning has many many years of successful experience , providing services to both private individuals and corporate clients .
Combination of new management technologies, application of modern marketing concepts , constant attention to the level of service and quality of service brought Antique Rug Cleaning in the group of leaders among similar enterprises of the city , as evidenced by the many positive reviews of individual and corporate clients.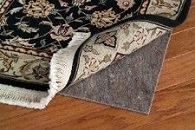 Pad or padding under rug extends the life of your area rug by providing a smooth, supportive base in addition to preventing you from slipping and sliding on hard surfaces maintaining the placement of your area rug.
Be sure to have a good pad to keep your rugs properly cushioned and in place, for your safety and for the long life of the rug.
We carry different types of padding designed for use on floors and carpeting, and can advise you about which are best for your application.